Summer Film School Uherské Hradište 2019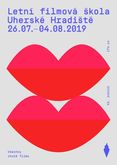 The 45th anniversary edition of the Summer Film School Uherské Hradište will traditionally give special attention to Slovak cinema. Beside fourteen Slovak feature-length films, contemporary works of film school students and selected shorts will be presented.

One of the most anticipated film will be Let There Be Light by Marko Škop, recently premiered and awarded at the 54th Karlovy Vary IFF. The film received Special Mention from the Ecumenical Jury and Milan Ondrík won the Best Actor Award for the leading role.
New Film Releases will present Slovak films produced over the past 12 months: directors' debuts By a Sharp Knife (d. Teodor Kuhn) and PUNK NEVER ENDS! (d. Juraj Šlauka), stories connected to Czechoslovak history Toman (d. Ondřej Trojan) and Talks with TGM (d. Jakub Červenka), tragicomedy On the Roof (d. Jiří Mádl) that portrays the relationship of a grumpy retired teacher and young Vietnamese illegal immigrant and Old-Timers (d. Martin Dušek, Ondřej Provazník) about two stubborn seniors who set out to exact revenge for a crime committed in the 1950s. Open Air cinema will screen mystery thriller The Rift by Peter Bebjak, fairy-tale The Magic Quill by Marek Najbrt and Terrorist by Radek Bajgar.
Summer Film School will honor Slovak actor Milan Lasica with special screenings of comedy Run, he is coming! by Dušan Rapoš and impressionistic film Sweet Games of the Last Summer by Juraj Herz. Another Slovak classic film, Sitting on a Branch, I am Fine by Juraj Jakubisko will be presented within section focused on searching for the national identity with accent on humour Czechs – Who Are They? 2: Laughing Beasts.
Short films will also have a strong presence in Uherské Hradiště. In addition to the three student films Ad Revidendum (d. Matúš Ryšan), Warm Comedy about Depression, Madness and Unfulfilled Dreams (d. Michal Ďuriš) and TheTrip (d. Daniel Rihák), works of documentary director Marek Kuboš and animator Martin Snopek will be presented as well. Both filmmakers will attend screenings in person. The selection of Marek Kuboš's works will present shorts A Photographer's Journey, Vote 98, RS 2nd LineKralovany, A Little Bit of Propaganda, accompanied by his feature-length debut The Last Self-Portrait. The selection of Martin Snopek's work will consist of shorts Encounter, The Ravenand the Fox, Pik and Nik, Everyday Grazing, Monster, The Last Bus (co-dir. Ivana Laučíková) and a collective work made during Snopek's studies at the Academy of Performing Arts in Bratislava Steps, Leaps, Years... and the Last One Turns Off the Light. Both directors will attend screenings in person.
Most of the activities connected with Slovak cinema will take place on Tuesday, July 30th. On this day Klapka.sk (store of Slovak Film Institute) will be selling editorial products at discount prices in the cinema Hviezda.
Web:
https://en.lfs.cz/

Programme of the festival:
https://programme.lfs.cz/
Related AIC articles:
Summer Film School Uherské Hradište 2018
Summer Film School Uherské Hradište 2017
Summer Film School Uherské Hradište 2016
published: 25.07.2019
updated: 25.07.2019