Slovak Films 2005 - 2007

Full pdf version of new publication on film production in Slovakia is available here (English language, 1,59 MB).
If being interested in particular chapter of the publication only (for example full-lenght films shot in 2006), separate pdf pages are available as well. Please, see the content below.
full-length films 2005 (pdf, 577 kB)

english title
slovak title
director
bye bye harry
zbohom, harry!
young, robert
city of the sun, the
slnečný štát
šulík, martin
friday or another day
piatok alebo iný deň
le moine, yvan
here we are
my zdes
vojtek, jaroslav
lunacy
šílení
švankmajer, jan
terminal station
koneČná stanica
chlumský, jirí
wrong side up
príbehy obyČajného šialenstva
zelenka, petr
full-length films 2006 (pdf, 241 kB)

english title
original title
director
i served the king of england
obsluhoval jsem anglického krále
menzel, jirí
other worlds
iné svety
škop, marko
tepuy
tepuy
barabáš, pavol
full-length films 2007 (pdf, 1034 kB)
english title
original Title
director
bathory
bathory
jakubisko, juraj
border, the
hranica
vojtek, jaroslav
crumbs of heaven
trochu ako v nebi
jablonski, dariusz
demons
démoni
šveda, róbert
disintegration
polčas rozpadu
fischer, vlado
facing the enemy
rozhovor s nepriateľom
lančarič, patrik
last legion, the
posledná légia
lefler, doug
little girl blue
tajnosti
nellis, alice
martin slivka - the man who planted trees
martin slivka - muž, ktorý sadil stromy
šulík, martin
music
muzika
nvota, juraj
return of the storks
návrat bocianov
repka, martin
roming
roming
vejdelek, jirí
searching
hľadanie
lehotský, juraj
tv feature films 2005 - 2007 (pdf, 245)
english title
original title
director
silence
ticho
liová, zuzana
magicians' winter, the
zima kúzelníkov
trančík, dušan
selected shorts 2005–2007 (pdf, 743 kB)
english title
original title
director
7 magical years, the
7 magických rokov
šulík, marek
abel's black dog
ábelov čierny pes
čengel-solčanská, mariana
celebration of a lonely palm
slávnosť osamelej palmy
johanides, juraj & škop, marko
closer
v tesnej blízkosti
balog, milan
cheers!
nazdravíčko!
zajacová, ivana & mital, jozef
cheese
cheese
ferencová, marta
crying of angels, the
anjeli plačú
piussi, zuzana
fat fatal
fat fatal
čopíková, michaela
conversations with father
rozhovory s otcom
šuda, ján
following a dream – slovak dream 2004-2006
cesta za snom – slovenský sen 2004-2006
vojtek, jaroslav
following act, a
Ďalšie dejstvo – következo felvonás
prikler, mátyás
flying words town
mesto lietajúcich slov
diosi, martina
lionardo mio
lionardo mio
šebestová, ivana
let`s shoot that sunset
natoČme ten západ slnka
hečko, maroš & rihák, daniel
housedwellers
obyvatelia domu
herczegová, kristína
mednyánszky: painter of a vanished time
mednyánszky
štric, vladimír
metamorphoses of the tatra mountains
premeny tatier
barabáš, pavol
monster
príšera
oštádalová, michaela
monstrance
monštrancia
čengelová, mariana
my first 75 years... egon bondy
mojich prvých 75... egon bondy
hanzlícek, martin
one more chance
druhá šanca
ferencová, marta & štric, vladimír
people by the railway track
ludia na trati
kojnok, arnold
one pig's destiny
osud prasiatka
matrka, šimon
pik and nik
pik a nik
snopek, martin
searching for a dream
hĽadanie ilúzií
karimi, sahraa
pornoromance
pornoromantik
begányi, peter
pururambo
pururambo
barabáš, pavol
sideways
bokovka
jančo, tomáš
slovak fairy tales
slovenské rozprávky
brachtl, ivo
shimmy yeah
šimijé
čengelová, mariana
sona and her family
o soni a jej rodine
rusnoková, daniela
standard bastard
standard bastard
balog, milan
t-shirt
triČko
FAZELI, HOSSEIN MARTIN
thirst
smäd
REpka, Martin
whore, the
kurva
jaško, samuel
woolf
woolf
kubinec, juraj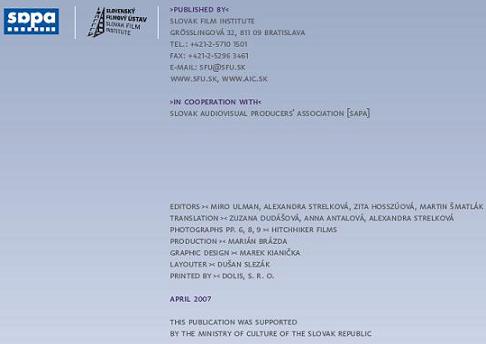 return to AIC > English > Statistics and documents
return to AIC > English > What's Slovak in Cannes 2007?
published: 19.05.2007
updated: 07.10.2011