Summer Film School Uherské Hradiště 2022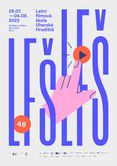 The 48th edition of the Summer Film School Uherské Hradiště (29 July – 4 August 2022) has prepared a colourful programme and traditionally includes many Slovak films and co-productions. In addition to the new releases, the screen will feature a classic from the collections of the National Film Archive of the SFI Beware...! (1946) directed by Martin Frič.

After its world premiere at Karlovy Vary, Uherské Hradiště will present Beata Parkanová's second feature film The Word, which won the festival's awards for Best Director and Best Actor. The New Czech and Slovak films section will present Olga Sommerová's new documentary Michael Kocáb – rocker versus politician, Václav Kadrnka's Saving One Who Was Dead and Peter Kerekes' Venice award-winning film 107 Mothers. The festival will close with the premiere of Arved by Vojtěch Mašek.

To pay tribute to Martin Frič on the occasion of his 120th anniversary, the Summer Film School has dedicated a film retrospective and an expert analysis to his work; Frič's Slovak film Beware...!, is part of the programme.

The Open-air Cinema will screen the audience-attractive films Shadowplay by Peter Bebjak and feature debuts Avalanche of Love by Jakub Machala and Perfect Strangers by Zuzana Marianková.

Festival guest Michaela Pavlátová will present her films My Sunny Maad and Faithless Games.

Slovak student films have earned a lot of international attention in recent years. The festival will show them within the selection of shorts: Liquid Bread by Alica Bednáriková, Rheum by Kateřina Hroníková), Long Live Death by Róbert Mihály, Maverick (Of Hen and Men) by Peter Hoferica and Knife by Timotej Lukovič.
Festival program:
https://programme.lfs.cz/

Related AIC articles:
Summer Film School Uherské Hradište 2021
Summer Film School Uherské Hradište 2020
Summer Film School Uherské Hradište 2019
Summer Film School Uherské Hradište 2018
Summer Film School Uherské Hradište 2017
Summer Film School Uherské Hradište 2016
published: 21.07.2022
updated: 21.07.2022