KARLOVY VARY INTERNATIONAL FILM FESTIVAL
Medzinárodní filmový festival Karlovy Vary
Interview with Marko Škop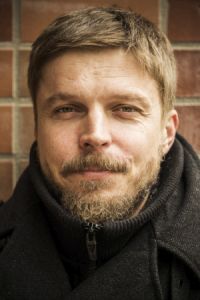 Scriptwriter, director and producer Marko Škop gained international renomé as a documentary filmmaker with films such as Other Worlds (2006) and Osadné (2009). His 2015 fiction feature debut Eva Nová tells the story of a former film star who has just been released from rehab and tries to find her place within her family that she hurt. Škop's latest fiction feature Let There Be Light examines the possible consequences of fathers' decision to be absent from their families in order to earn more money abroad.
Both Let There Be Light and Eva Nová have been pitched in Karlovy Vary IFF's Works in Progress. How would you evaluate the experience?
Being a public pitch, Works in Progress offers an opportunity to present short clips from your film to a big number of film professionals at once. I consider one-on-one meetings as the most beneficial, but a panel pre-sentation in front of a big auditorium for sure brings the project to the attention of a wider circuit of film professionals.
In the Film.sk 10/2015 interview you stated that you had decided to make Eva Nová a fiction feature "exactly because it allowed a deeper dive into the suffocating unresolved relationships". In what way was it easier for you to portray the ideas presented in Let There Be Light as a fictional story rather than a documentary?
Fiction film allows me to create a more complex model of family relations, to look across generations from grandparents to grandchildren. When you are making a documentary, there is always the question of ethics, where you have to decide what to show and what better not, so that you don't cause harm to the real people and their real lives. The choice between fiction and documentary thus depends on the subject. If I find a topic that feels a better fit, I'd gladly make my return to documentary.
Let There Be Light develops several strong ideas and themes. What was the idea that started it all? How has it transformed during the scriptwriting process?
In the beginning, there was the idea of an absent father. A father who is not there with the family bringing up the children and being a role model because he is earning money. I believe that a father who is too strict, emotionally distant, is just as dangerous as a father that is not with his children.
As I studied family constellations of Slovak economic migrants, further themes resurfaced. One of them was nationalist indoctrination of young adults which is a burning issue in Slovakia at the moment. What was the most difficult moment of the script?
To find the balance between a subtle family drama and social commentary. It was important for me to capture both. This parallel flow of energies was one of the challenges that called for the assistance of script-counsellors Zuzana Liová and František Krähenbiel; both have already worked with me on Eva Nová and I found their contribution indispensable.
Once again you chose a striking title that plays with the motives presented in the film and values represented by its protagonist.
"Let there be light" sounds very positive. It has this knack of an ideological catchphrase. Nevertheless, we should keep in mind that with light comes shadow. We have light in the title of a drama about a family threatened by a shadow. I found this contrast interesting and wanted to develop it further. Together with DoP Ján Meliš, we wanted the style of the film to accentuate these ideas. That is why we opted for hard lighting, backlight, and dark corners.
Is there any specific reason for setting Let There Be Light in Orava? It is quite a distinctive rural part of Slovakia.
There is actually no link between Orava and the story, my idea was to create a film that can take place anywhere in Slovakia. I did my research for the film in Orava and we came across a perfect house. Moreover, in the winter, the region is covered with snow that worked well with our ideal images. Nevertheless, vis maior was not in our favour. During the shooting, there was barely any snow and even less sunny days that we needed for the intended hard light in the exteriors. I am happy to say that these problems have not affected the film at all and I am content with the result.
You are both, the director and the producer of your films. What are the advantages and what are the drawbacks?
The advantage is that I am responsible and accountable for everything. That might actually be the drawback as well, as there are tough moments in every production. There are two sides to every coin. Or, to stay in the line of my previous thoughts, with light comes shadow.
Related AIC articles:
Let There Be Light (d. Marko Škop) in Official Selection at 54th Karlovy Vary IFF
publikované:
aktualizované: 24.06.2019