Russian Cinema Masters and New Russian Films in Bratislava and Piešťany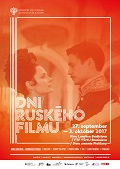 Cinema Lumière (Sept 27 - Oct 3, 2017) in Bratislava and Dom umenia in Piešťany (Oct 1 -3, 2017) will be the venues of Russian Film Days. With the motto "one film a day", the event will showcase a selection of the new Russian films including the newest oeuvres of Karen Shakhnazarov, Aleksei Mizgirev or Andrei Konchalovsky.

Russian Film Days in Bratislava will open on Wednesday, September 27, at 18.00, with screening of the latest film by Karen Shakhnazarov Anna Karenina. Vronsky's Story, introduced by the director Shakhnazarov himself and actors Anastasia Makeeva, Anna Sinyakina and Ivan Kolesnikov. Similarily, the screening of The Duelist (d. Aleksei Mizgirev) on following day will be introduced by the guess, actress Yulia Khlynina.

On Thursday, September 27, the programme opens at 15.00 on the premises of Film and Television Faculty of School of the Performing Arts with Masterclass lectured by Karen Shakhnazarov.

The selection includes also the latest film by another of the Masters of the Russian cinema Andrei Konchalovsky Paradise, the winner of the Silver Lion from the 73rd Venice IFF, national nominee for Oscar® in the category the Best Foreign Language, this year shortlisted by the European Film Academy for the European Film Award. Also inspired by a Russian classic is the adaptation of a short story by Alexander Pushkin and opera by Pyotr Illyich Tchaikovsky Queen of Spades (d. Pavel Lungin), a compelling contemporary tale of passion, love, jealousy, addiction, and the destructive thirst for glory.
Spicing up the selection with a touch of genre cinema, comes a coming of age comedy of love errors and troubles and winner of the Best Film and Audience's Choice categories at the 2016 Kinotavr Film Festival Good Boy (d. Oksana Karas), a canny directorial debut, thriller about a professional debt collector in troubles, called simply Collector (d. Alexej Krasovksij) and an earnest, deeply felt drama set against the 1988 calamity that devastated a large swath of northern Armenia and caused more than 25,000 deaths Earthquake(d. Sarik Andreasyan).
Dom kultúry in Piešťany will screen Paradise, Anna Karenina. Vronsky's Story and Queen of Spades.

The films will be screened in original language with Slovak e-subtitles. Please, pick up free ticket at the cash desk of the cinema one hour before screening. No reservation needed. For the opening, number of tickets open to public is limited.

Orgaizers of the Russian Film Days are Slovak Film Institute on behalf of Ministry of Culture of the Slovak Republic, Ministry of Culture of the Slovak Republic, in cooperation with Ministry of Culture of the Russian Federation and NOY Film Company. Partners of the event: Dom umenia Piešťany, Film and TV Faculty of School of Performing Arts Bratislava, Cinema Lumière, Russian Center for Science and Culture, Kafehaus Lumière and BKIS. We would like to thank Slovak Institute in Moscow and Embassy of Russian Federation.


Schedules
Bratislava/Cinema Lumière & Film and TV Faculty SPA

Sept. 27
18.00
Lumière
Anna Karenina. Vronsky's Story
Sept. 28
15.00
Film and TV Faculty
Masterclass: Karen Shakhnazarov
Sept. 28
18.00
Lumière
The Duelist
Sept. 29
17.30
20.00
Lumière
Anna Karenina. Vronsky's Story
Good Boy
Sept. 30
20.00
Lumière
Queen of Spades
Oct. 1
18.00
Lumière
Paradise
Oct. 2
18.00
Lumière
Earthquake
Oct. 3
18.00
Lumière
Collector
Piešťany/Dom
umenia
| | | |
| --- | --- | --- |
| Oct. 1 | 18.00 | Paradise |
| Oct. 2 | 18.00 | Queen of Spades |
| Oct. 3 | 18.00 | Anna Karenina. Vronsky's Story |
Related AIC News:
Russian Film Days 2015
Slovak Film Week in Moscow 2014
Russian Film Days 2013

published: 20.09.2017
updated: 02.10.2017