Berlinale Talents: Michal Blaško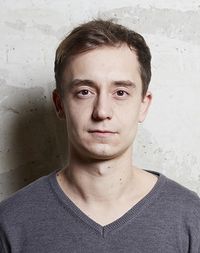 "While the Berlinale presents films in every form, the Talents programme dissects the way they are made and the way of seeing the world from a different perspective," the Berlinale Talents programme description reads. This year, Slovakia will be represented by Michal Blaško, a young director finishing his fiction debut Victim. He will also present his miniseries Suspicion at the Berlinale Co-Production Market as part of the Co-Pro Series platform.
"We are currently finishing the post-production of my feature debut Victim, and I am also shooting the last two episodes of the crime series Major Case Squad. In the meantime, I started preparing two more feature projects I will be directing – Guilt and Cowgirl," said Blaško to Film.sk.
The development programme Berlinale Talents has been taking place since 2003. It consists of workshops, lectures, meetings, discussions with renowned filmmakers, and of course, screenings. Last year was the first time it took place virtually. 3000 filmmakers from all around the world applied, 200 were selected. Slovakia was represented by Barbora Berezňáková and Matúš Krajňák.
This edition's Slovak representative, Michal Blaško, has already stirred up interest a few years ago with Atlantis, 2003 (2017), his bachelor film made at VŠMU that was selected for the Cinéfondation student competition of the Cannes festival. Later, he was searching for support of his fiction debut Victim at the Cinéfondation – L'Atelier programme. The film won the Works in Progress TRT Award at Karlovy Vary last year.
Victim is the story of a Ukrainian single mom Irina that lives in a small Czech town with her son. "Via an intimate portrait of Irina, I would like to expose the society Irina became a temporary mascot to, the society she ultimately caricatures. Authenticity and civility are the characterising elements in the narration of our story. That is why I and the DoP Adam Mach decided for the most authentic, dynamic, and yet aesthetically appealing form of narration in which we as viewers relate to Irina, and as the story progresses, we will be getting to know her son," the director said about the upcoming debut he worked on with screenwriter Jakub Medvecký. In the film, Irina stands up for her son who was allegedly brutally beaten by some Roma people. She demands justice and feels that her community really supports her. Is her son telling the truth, though?
The Czech Television's three-part mini series Suspicion, directed by Blaško, also works with the motif of suspicion being immediately mistaken for guilt. The series is co-produced by ARTE television and nutprodukce of Jakub Viktorín, a Slovak who is also producing Blaško's debut. The auditions took almost a year, Czech actress Klára Melíšková will play the leading role. "Even at the auditions, Klára was sitting in front of us with her poker face and we really could not tell whether she was an innocent woman or a murderer. We knew that if she could do this to the viewers throughout the entire series, we would have hit the jackpot because they would be constantly reassessing whether they liked or did not like her," said Blaško when presenting the mini series at the Karlovy Vary festival last year, where the first part of the trilogy premiered exclusively in the last weeks of summer. Melíšková portrays a nurse whose life turns upside down when she is accused of murdering a patient. Even though it is merely a suspicion at the moment, everyone pretty much takes for granted that she actually did it. Just because she is grumpy in temper and her approach to patients lacks empathy. "The mini series thematizing the importance of the presumption of innocence and the difference between truth and a notion is, contrarily to its local environment, close to Scandinavian detective stories," Martin Kudláč wrote in Film.sk after the first episode premiered.
The screenplay was written by Štepán Hulík, the author of successful mini series for HBO Europe awarded with Czech Lions – Wasteland (2016, dir. Ivan Zachariáš, Alice Nellis), or Burning Bush (2013, dir. Agnieszka Holland) focusing on the self-immolation of Jan Palach. "Unlike Jan Palach's deed, this story's strength lies in its ability to be generalised, not in its uniqueness," said Štěpán Hulík about Suspicion. "Questions of the truth, lies, blends of those two, and whether the line between them has not become completely blurred yet, are highly topical," he added.
Text: Matúš Kvasnička
Source: Film.sk Berlinale Edition 2022

published:
updated: 19.09.2022