BERLINALE
International Film Festival Berlin
Berlinale Talents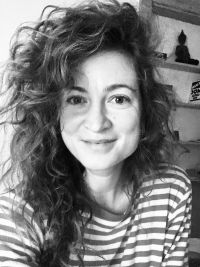 Barbora Berezňáková studied at the Academy of Performing Arts in Bratislava, the New York Film Academy and at the Bellas Artes in Valencia. Her films incorporate an experiment with the film form. She created the documentary and transmedia project Ask Your Parents 68/89 (2019). The key political events of the 20th century determining the further orientation of Czechoslovakia are presented through the memories of ordinary people and their family history. Her feature debut Never Happened (2019) premiered at the prestigious Warsaw International Film Festival. It reconstructs several fundamental political crimes and cases of post-revolutionary Slovakia in the 1990s while taking an interest in the experience of the individual against a background of political events.
Do you have specific expectations from participating in the Berlinale Talents programme?
- I am really looking forward to the Berlinale Talents, I am curious about the programme, I think the whole Berlinale festival is of a very high standard.
What have you been working on lately?
- I am currently working on my debut feature film called The Dead Horse. It is an absurd drama with elements of comedy, discussing a conservative backlash. I would like to consult the project, look for potential co-producers and film partners because the story is very topical and interesting for European and international audiences.
published: 22.02.2021
updated: 25.02.2021