Slovak Film Institute at Clermont-Ferrand Online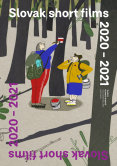 Clermont-Ferrand international Short Film Festival (January 29 – February 6, 2021), one of the world's largest and most prestigious film festivals dedicated to short films, adopts online format. Slovakia will be represented within Short Film Market (February 1 – 5, 2021).

Third year in a row, Slovak Film Institute will attend the Short Film Market under the umbrella name Central European Cinema shared with the Czech Film Center and the Slovenian Film Centre.

Euro Connection

Euro Connection is the European Short Film Co-production Forum taking place each year at the Clermont-Ferrand Short Film Market. This business platform aims at fostering partnerships between European production companies for short film projects. In collaboration with the European correspondents, a dozen producers are also invited to be in the Producers Focus.

This year, Slovakia is represented by an animated short film project Tourists (d. Mária Kralovič), included into the final line-up thanks to the nomination through the Slovak Film Institute.

A married couple, Kornel (55) and Hana (50), are fixing hiking trail marks in the woods. Kornel feels like a woodsman discovering new, unexplored places. He is secretly hoping that this adventure will save their stagnant, childless relationship, but at the same time, he has no courage to depart from the marked trail. Hana only ever tries to make her husband happy anymore, and if Hana happens to dream from time to time, she ends up feeling guilty. It doesn't take long for the couple to get lost, neither of them being able to return to the hiking trail.

MEET THE CEC TALENTS
A panel discussion with the directors of the short films in the Festival's programme Katarina "KUKLA" Rešek (Sisters), Alexandra Májová (Washing Machine), and Aliona Baranova (Leaf), as well as with the directors of the projects participating in Euro Connection Pavla Baštanová (About a Cow), Lun Sevnik (The Tourist), and Mária Kralovič (Tourists), MEET THE CEC TALENTS will take place on February 1, 2021 at 3:00 pm (CET) in the virtual room AGORA.

Vítězslav Chovanec from the Czech Film Center, Lea Pagáčová from the Slovak Film Institute, and Nerina Kocjančič from the Slovenian Film Centre will moderate the debate.

Come and meet us at Central European Cinema Virtual Stand!

Representative of Slovak Film Institute in Clermont-Ferrand: Lea Pagáčová, lea.pagacova@sfu.sk
Newsletter Slovak Short Films.
web: www.clermont-filmfest.org/en
Related AIC articles:

2020: Slovak Film Institute Back in Clermont-Ferrand!
2019: Slovak Film Institute in Clermont-Ferrand!
published: 22.01.2021
updated: 26.01.2021