Slovak Film Institute Back in Clermont-Ferrand!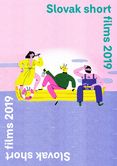 After last year's exceptional success, Slovak shorts continue to thrive. Clermont-Ferrand International Short Film Festival (January 1 – February 8, 2020), one of the world's largest and most prestigious film festivals dedicated to short films, will present two Slovak animated films in its program. Furthermore, Slovakia will be represented for the second time within Short Film Market (February 3 – 6, 2020).

Short animated SH_T HAPPENS by directing duo David Štumpf & Michaela Mihályi will be presented in International Competition. The story of the caretaker exhausted by everything, his frustrated wife and one totally depressed deer has successfully started its festival circuit at the 76th Venice IFF within competitive section Orizzonti and followed by the screening at the 35th Sundance Film Festival.

The younger audience will get a chance to enjoy by Martin Smatana's The Kite, which was world premiered at the 69th Berlinale within Generation Kplus and won several major awards including the Award for the best children's animated film at the 26thStuttgart Festival of Animated Film or Young Audience Award at the Annecy International Animated Film Festival.

Thanks to co-operation with Czech Film Center and Slovenian Film Centre, Slovak Film Institute will attend the Short Film Market for the second time under the umbrella of Central European Cinema.

Euro Connection

Euro Connection is the European Short Film Co-production Forum taking place each year at the Clermont-Ferrand Short Film Market. This business platform aims at fostering partnerships between European production companies for short film projects. In collaboration with the European correspondents, a dozen producers are also invited to be in the Producers Focus. This year, Slovakia is represented by Peter Badač (BFILM), who is also a producer of both mentioned films included in the festival program.

Come and meet us at Central European Cinema Stand No. 23!

Representative of Slovak Film Institute in Clermont Ferrand: Lea Pagáčová, lea.pagacova@sfu.sk

Newsletter Slovak Short Films.
Programme of Slovak films:
SH_T HAPPENS, d. David Štumpf & Michaela Mihályi, CZ-SK-FR, 2019
February 1 | 22:15 | Genova
February 2 | 15:00 | Agnès Varda
February 3 | 16:00 | Cocteau
February 4 | 20:15 | Genova
February 5 | 18:00 | Genova
February 6 | 18:00 | Cocteau
February 7 | 11:00 | Vian
February 8 | 13:00 | Hospital
The Kite, d. Martin Smatana, CZ-SK-PL, 2019
February 1 | 16:00 | Conchon
February 2 | 14:00 | Petit Vélo
February 3 | 09:45 | Capitole 2
February 4 | 09:45 | Capitole 2
February 5 | 09:45 | Capitole 2
February 5 | 14:00 | Jaude 1
February 6 | 09:45 | Capitole 2
February 7 | 09:45 | Capitole 2
February 7 | 19:30 | Stade nautique
February 8 | 14:00 | Petit Vélo
February 9 | 14:00 | Rio
web: www.clermont-filmfest.org/en
Related AIC articles:
2019: Slovak Film Institute in Clermont-Ferrand
published: 30.01.2020
updated: 30.01.2020