BERLINALE
International Film Festival Berlin
Interview with Ivan Ostrochovský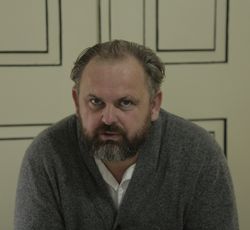 The film career of Ivan Ostrochovský was launched with a documentary about Slovak composer Ilja Zeljenka, a short film that was impressive mainly thanks to its wonderful mix of matter-of-factness and sensitivity. Other films by Ostrochovský have a similar tension – either between humour and seriousness as in Velvet Terrorists, coyness and explicitness as in Koza or between fear and courage in his latest film, the obsessively beautiful Servants. It will receive its world première at the Berlinale where the director's two previous films were also screened.

You came to cinema via audio-visual studies, you even have a PhD. from it. How did you actually become a film director?
- That I've become a director remains strange to me even to this very day. My drunken friend nicknamed Chimney gave me the advice to apply to the film school – actually, I realise that I haven't ever thanked him for it. So I would like to thank him in this way.
When you started making your first films, stable production companies and systematic support for independent audiovision were lacking in Slovakia. Many filmmakers produced the films they were making on their own, without any external support. You established your own company at that time too and you started to make documentary series for television. How do you perceive your production beginnings? What role did the Audiovisual Fund and the stabilisation of support for audiovision after 2009 play in this?
- To be a producer is the only option for making films the way I want to. In essence, it's a necessity. I don't think you would find a producer with common sense who would approve of the way I shoot films. That is to say, first I shoot the entire film as if in a "rough version" and then I shoot the entire film all over again.
- I've been producing films since 2004. The AVF has been operating since 2009. I think that the establishment of the Audiovisual Fund changed everything in Slovakia. Slovak cinema has recorded a huge upsurge, qualitative and quantitative, in the ten years of its functioning. The international successes of Peter Kerekes, Juraj Lehotský, Marko Škop, Mira Fornay, Zuzana Liová, Iveta Grófová and others are clear evidence of that. Of course, it is also important that films were made that managed to appeal to Slovak audiences and to renew interest in our cinema at home.
You made Velvet Terrorists, your first full-length project for cinemas, together with Peter Kerekes and Palo Pekarčík. Your full-length début Koza was made in close collaboration with screenwriter Marek Leščák and with a substantial input by cinematographer Martin Kollar. One thing I know about you is that you consult several editors at once about the montage of your films. So you are a team player. How does your creative team work? And how does your collaboration with film directors look when you are exclusively in the role of a producer?
- I'll start from the last point. When I produce a film for another director, I'm largely collaborating with friends, so I try to create the best possible conditions for work. I have a rule not to go to the shooting or into the editing room if I'm not expressly asked to do so. I know from experience that it can only end up in two ways. Either I get angry that the film is not good enough or I get jealous as a director that it is too good. That is why I don't like to be in the position of producer and, in essence, I don't even feel like one. I perform the activities that are usually carried out by producers and I bear the main responsibility for the project, yet I still don't feel like a producer. Just as I don't feel like a cleaning lady when I vacuum the office or wash the dishes from time to time. In short, I do whatever is necessary at the given moment in the "hole" – which is what we call our workplace – and, unfortunately, sometimes it is the tasks of a producer.
- The number of editors that I edit my films with is related to the way in which I shoot my films… i. e. a long time. It takes me four to five years to make a full-length film. It is difficult even for me to stay equally enthusiastic and maintain the energy for such a long time. Of course, those who take part in the making of the film can't always bind themselves to a single project for such a long time. Hence, it sometimes happens that I eventually edit a film with three, four, and in one case, even five editors. I think that it helps the result. Two heads are better than one. All in all, I like it when as many people from my surroundings as possible take part creatively in the making of the film. For instance, I like having other directors around when I'm shooting the film or in the editing room, which is not much in fashion nowadays.

Many of your projects are made in international co-productions. How do your relations with foreign production companies work?
- The question sounds as though it might be complicated, but the reality is very simple. I try to collaborate with productions that produce films, that somehow appeal to me and that I like.
What in your view is the significance of minority or majority co-productions for the functioning of the domestic audiovisual environment?
- In my view, this works on two levels. When I address foreign partners, I test the viability of the concept substantially, but I also examine whether the overall project has been set up well. If they were to reject me, I would have to ask myself whether I was making some sort of mistake. For me it's a sort of litmus test of the quality of projects. At the same time, I think that if a Slovak producer is not able to bring anything other than local money into a project, he's probably not doing his work very well. Because the less you "eat away" from the domestic cake, the bigger the chance that more Slovak films will be made.
Koza was the first Slovak film screened in the début film competition at the Berlinale. It was a very successful film at festivals, it received excellent critical acclaim at home and abroad. Did the communication or distribution strategy contribute to its success?
- As I don't understand the preparation of the distribution or communication campaigns, I can't really answer this question. Katarína Tomková is in charge of everything related to the festival life of films. Her English is better, and, unlike me, she likes talking to strangers. Nonetheless, I think it's misleading to create the impression that a film couldn't be successful without good marketing. Then all the speculations that frequently affect the final shape of the film take up a lot of time and energy. In short, you have to make a film that you believe in and sometimes a good career lies ahead for it, and another time it does not. I wouldn't ever want to make films only to get them to festivals. I like festivals because perceptive spectators hang around them. That's all.
Your second, just completed, feature film Servants will also receive its première at the Berlinale, this time in a new competition section, Encounters. It is quite an epic film with a strong international input. At the same time, it differs considerably from your previous projects. It is very artistic, thoughtful, controlled, with beautiful black and white photography. You worked with Czech, Irish and Romanian co-production partners and the film received support from Eurimages. Moreover, British screenwriter Rebecca Lenkiewicz is co-author of the script. How did the genesis of this film appear from the production perspective?
- Simple. Marek Leščák came up with the concept. Rebecca Lenkiewicz, who saw Koza and liked it, wrote this script with us. Vlad Ivanov, who I've admired since I saw 4 Months, 3 Weeks and 2 Days presented me with the award at the Vilnius Film Festival and so I asked him if he'd like to act in my next film. He agreed. Then Katarína Tomková found Romanian co-producers, Tudor Giurgiu and Oana Giurgiu, and also asked Mike Downey, who is the current President of the European Film Academy, to cover Rebecca in production terms.

In our country we probably know Rebecca Lenkiewicz best as the screenwriter of the Academy Award-winning black and white film Ida – as if the fancy black and white camera work also found an echo in Servants. Can this film of yours be perceived as a tribute to Polish cinematographic school? Is the shift in the poetics and in the narration of Servants the result of the collaboration with Rebecca?
- Of course, Rebecca will always refer to Ida. I liked Ida, naturally, but my choice of format and colour was rather motivated by love of old Czechoslovak films. And in particular of the well-thought-out compositions in Štefan Uher's The Organ and of the atmosphere of Ivan Passer's Intimate Lighting, which for me is perhaps film number 1.
How did you then look for the final shape of the film with the screenwriters and then with the cinematographer Juraj Chlpík? I am asking particularly with regard to what you said about the pace of making your films.
- First, we were concerned with Marek about how Rebecca would react as she's not used to such a long preparation, but eventually she got used to our slow pace. We expected she would bring the precision of "western" dramaturgy to the writing and, at the same time, be a sort of editor ensuring that what the film talks about is also sufficiently comprehensible for the foreign audiences who have not experienced communist ideology. I think we managed to do that.
- I opted for Juraj Chlpík on the basis of his camera work in a short film by Matúš Libovič – mainly because the film was black and white. However, we made realisation of the film quite complicated as we did not collaborate with an architect, but we built all the locations consistently on our own, all with a view to the composition of future shots.
I perceive a similar consistency of composition, almost even a rigidity of the film images, in Uher's The Organ.
A lot of little-known faces appear in Servants, but also literally new-wave winks toward any viewer who knows the domestic film environment well – for instance, in the scene of the illegal ordination of the priest in the apartment, Slovak filmmakers Marek Kuboš, Robert Kirchhoff or Juraj Johanides appear, in turn, Martin Šulík plays the doctor in the film and Palo Pekarčík turns up in one scene in police uniform. At the same time, you cast the Romanian actor Vlad Ivanov in one of the key roles, and Slovak theatre director Vladimír Strnisko in another. Several Slovak professional actors also played in the film. How did you do the casting? How did you choose the faces of your film?
- I did the casting with Palo Pekarčík. My main key is to cast types. That means that for me it's not that important whether it's an actor or non-actor. Of course, it's excellent if an actor cast based on type is also an actor with a capital A. That's the case with Vlad Ivanov and Milan Mikulčík who literally showed me new possibilities in filmmaking. Director Vlado Strnisko, who was playing in a film for the first time, provided me with plenty of good advice while adapting dialogues. Juraj Johanides and Martin Šulík spent endless hours in the editing room with me. And many of my friends gave me advice regarding the edited versions, as you did also, by the way.
You work a lot with the human face and diverse human physiognomy which bears a lot of sociological and iconographical connotations. What fascinates you in a human being as a live statue?
- I always anticipate that you can also enhance the acting by other means. Because, by precisely choosing the environments and human types, you can create the emotional state of the characters without having to depend solely on the actor's performance. I already utilised it in Koza. Furthermore, this statuesqueness of types is linked to the ecclesiastical theme in Servants. We deliberately repressed sacral art motifs and we created the stupor or "statuesqueness" of the church environment with human "statues".
Cristian Mungiu also had his say in the final editing phase. Where is his input most felt?
- Cristian gave us several good pieces of advice as to the final version of the film. He also helped us with the presentation of the film within the Les Films de Cannes à Bucarest project. By the way, that's also why the intertitle "143 days ago" appears at the beginning of Servants. That's exactly 4 months, 3 weeks and 2 days.
Servants is formally characterised by its ostentatiousness and also its subdued nature. As if inner discipline and order managed all its parts. In this case the form corresponds wonderfully to the theme, which is the functioning of the Roman Catholic church in totalitarian times. At the same time, the film is about individual stories of courage and fear, moral solidarity and the pragmatism of survival. How did you get to such a theme? What is there that appeals to you in it? And what does it say about the world of today?
- We wanted to make a film about the socialist period in Czechoslovakia, but with an overlap with the present. One day, Slovak actor Vlado Zboroň told us his story. He studied at the theological faculty under the communists, but he was expelled from the school. Subsequently, secret police agents came up with an offer – if he collaborates with them, he gets the chance to return to school. Zboroň did not return and we had a nice theme. The story of coming of age and confrontation with reality, when one has to choose which side to take, is universal and always topical. Last but not least, however, the title Servants refers to the fact that we are always under the influence of some higher powers that control us, whether consciously or unconsciously, and which sometimes inconspicuously alter our deeds and attitudes. Then it can easily happen that someone finds himself in a trap and serves something that doesn't correspond to his values at all.
Abridged from Film.sk (2020 English Special Edition)
Related AIC articles:
Ivan Ostrochovský's latest film Servants (2020) will world premiere at the brandnew Berlinale competition section Encounters.
published: 12.02.2020
updated: 12.02.2020