Interview with Gregor Valentovič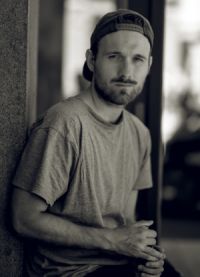 Gregor Valentovič is currently in his final year of Film Directing studies at the Academy of Performing Arts in Bratislava. His previous short film, The Test (2016) premiered at Premiers Plans Film Festival in Angers, France and was awarded at several short film festivals. Apart from short films, he directed several music videos and commercials.
What does it mean to you to have the premiere of your graduation film at an A-list festival like Karlovy Vary IFF?
First and foremost I am very thankful. And I feel lucky, I don't actually know how many films applied, I don't even know who was on the selection committee, but for a young filmmaker there's always just slight hope it could happen. So yeah, I'm just thankful, happy and excited. Karlovy Vary has been my favorite film festival (and place) to visit in the past years so it feels wonderful to have the opportunity to screen my short film here.
In 2018, you presented Kid as a project within the Works in Progress selection at the 25th IFCF Febiofest in Bratislava. What was the experience like? Did you get any helpful feedback that contributed to the film?
The experience was nice, I remember being super ill while presenting, so I didn't even have time to be nervous. The pitch was in English which was also comfortable for me, although presenting after Peter Bebjak and before Marko Škop isn't the best place you want to pitch your "unimportant" short film. I don't really remember any specific feedback, maybe one or two people said they liked the presentation. But more importantly it was about getting the first feel of how these things work and what I might expect in the future, when, hopefully, presenting a bigger project.
Kid is a coming of age story about friendship and loneliness. The subject fits a graduation film quite well. Where did the inspiration come from?
The inspiration came from my own life and the lives of my friends. Our friendship was going through this tough period when each of us was going separate directions, which really wasn't easy for me. Based on my theory that you should make films about what worries you, I made a film about it, although I wasn't even sure it was a topic. Apparently it was.
Apart from directing (short) films, you have been involved in several music videos and commercials. Music plays an important role in Kid, too. How do you work with music in film?
I love music. If I weren't making movies, I would be making music. But movies are a good way of combining both, therefore I chose filmmaking. It really depends on the mood of the film what kind of music I pick. I have had orchestral music in my shorts in the past; recently I have been working more with songs. Also, there's the question of diegetic and non-diegetic music, but again, I prefer the combination. I am somewhat allergic to 90% of the directors' musical choices so I don't try to overuse it, only when it really suits the particular scene, when I feel it can enhance the narrative. I love to use Slovak and Czech music (songs) in my shorts. Sometimes you really need to dig deep for a good catch but when you do….! For instance, all the music in Kid is Slovak. Not out of patriotic reasons, I just feel there's great music being produced here that deserves more attention, plus it's so much easier with the copyrights, too.
In the film you make an allusion to Xavier Dolan. Are you a fan of the director? Which film directors are influential for you?
I am a fan of Xavier Dolan although if you're asking about directors who influenced me, he probably wouldn't come to my mind in the first run. I truly respect him, enjoy many of his films, but I used him more as a reference for being (not only!) a gay icon for artists, moviegoers and general public alike. If I were to name the directors that inspire me, I would mention Ulrich Seidl, Richard Linklater, the Dardenne brothers, Krzysztof Kieślowski and Mia Hansen-Løve, the last one being my ultimate inspiration lately.
What future projects are you currently working on? What are your plans after graduation?
At the moment I am developing a TV series based on the main characters of Kid. It's actually the same story only more detailed and better structured. Each of the main four gets their own story. I am co-writing it with my great teammates Marcela Žgančíková and Martina Buchelová and would love to shoot it some time next year if we get the chance. I am also writing my feature debut about one simple family that finds itself changed by the fall of Socialism in Czechoslovakia. But that one is a bit further on.
Related AIC articles:
Kid (d. Gregor Valentovič) in Future Frames competition at 54th Karlovy Vary IFF
published:
updated: 24.06.2019