The Slovak and Czech Republic Pavilion at the Marché du Film 2011

For the sixth time, Slovakia will be represented at the Marché du Film, the fourth time with Czech Republic. The pavilion No. 103 will be available for film professionals interested in Slovak audiovision, but also it will be is a platform for meetings of Slovak film professionals. New and upcoming Slovak films will be presented in the Pavilion, as well as the promotional materials: the Slovak Films 09 – 11 catalogue, the Upcoming Slovak Films 11 – 12 catalogue or the Report on the Slovak Audiovisual Situation in 2010 catalogue published by MEDIA Desk Slovakia.

This year, a lot of Slovak guests will be at the Cannes IFF: the Cagey Tigers team, the programmers of Slovak international film festivals, film producers, filmmakers. The Pavilion will serve as a their meeting point leading to international co-operation.
The presence of Slovak cinema is organized by the Slovak Film Insitute, in collaboration with the Slovak Audiovisual Producers´ Association, with the financial support of the Slovak Audiovisual Fund.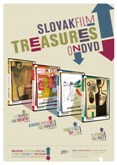 Slovak film treasures on DVD in France
published: 06.05.2011
updated: 02.03.2012