The Sun in a Net on Second Run DVD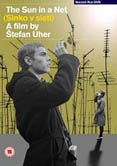 Second Run Releases Slovak Film Classics on DVD:
The Sun in a Net

For the first time, Slovak film classics are released on DVD for the UK market.
The Sun in a Net
(Slnko v sieti, 1962) by Štefan Uher is the first title of the Slovak film series presented in the collection of
Second Run.
After releasing several European archive classics, including many important films from Central and Eastern Europe, Second Run DVD, a UK-based independent DVD publisher/distributor specialising in the release of important and award-winning gems of classic and contemporary cinema from around the world, will be releasing some of the most significant titles of Slovak cinema.
The series start with the release of the film that is consistently ranked amongst the greatest of films in the history of Slovak (and Czechoslovak) cinema and cited as the film that kick-started the whole "Czechoslovak New Wave" movement - Štefan Uher's landmark 1962 masterpiece The Sun in a Net (Slnko v sieti). The Special Edition DVD also features an exclusive, newly filmed introduction by award-winning filmmaker Peter Strickland, who considers the film as a "beautiful gem which has lain undiscovered for so many years". As a bonus, the DVD also includes a 20-page booklet featuring a new essay by author and film programmer Peter Hames.
"The Sun in a Net is still fresh and young, complex and rewarding. It has the vivacity and love of life that we found in the early films of Truffaut, for example. The only mystery is why has it been unknown outside Czechoslovakia for almost half a century?" Senses of Cinema

Three more titles to be released in this first collection are: Eduard Grečner's beautifully poetic Dragon's Return (Drak sa vracia,, 1967), Juraj Jakubisko´s mosaic-like parable Birds, Orphans and Fools (Vtáčkovia, siroty a blázni, 1969) and Dušan Hanák's masterpiece of documentary filmmaking Pictures of the Old World (Obrazy starého sveta, 1972).

Further collaboration is planned between the Slovak Film Institute and Second Run, whose managing director, Mehelli Modi, comments: "We've hardly scratched the surface of great Slovak cinema and we would definitely want to continue with further titles so that the recognition and importance of Slovakian cinema in the UK can grow and grow."


See: Second Run Trailer for The Sun in a Net - You Tube

Second Run – Press Release: The Sun in a Net on Second Run DVD

Second Run DVDs are available in stores,
through the website of Second Run: www.secondrundvd.com / The Sun in a Net
and all the online retailers such as:
The Sun in a Net on Amazon
The Sun in a Net on MovieMail - includes a review by Michael Brooke
The Sun in a Net on Zavvi



Related articles at AIC:
Slovak Classics on DVD in France – Malavida

published: 10.08.2013
updated: 08.05.2014