BERLINALE
International Film Festival Berlin
Interview with Martin Smatana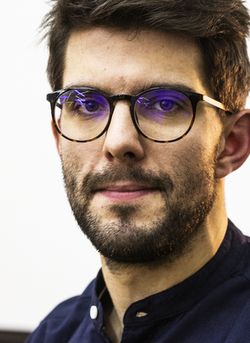 Martin Smatana (1991) finished his master's degree in Animation at FAMU, Prague. During his bachelor studies he completed an intership at Nukufilm Studiso in Tallinn, Estonia. For 5 years he has been leading animation workshops for children. His debut Rosso Papavero premiered at Berlinale 2015 Generation Kplus. This year, the same competition section screens his new short The Kite.

The Kite is told from the point of view of a child who witnesses aging and departure of his grandpa whom he deeply loves. What brought you to the idea and what was your approach?
- When I started to develop the idea, many asked me if I had gone mad. Then, I was reading a lot about how to speak about such complex issues with children, how to answer their questions truthfully without any understating. At the same time, we wanted to approach the matter employing metaphors, symbols, but still in a manner apprehensible for children. Still, it was important for us to have joy and hope in a story about death. That is also why it has taken us a long time to finish the film.

You created a charming and enticing world full of rather popular pastel tones that still avoids being obtrusive.
- Considering the heavy nature of the film`s theme, we knew we needed to employ a kind, soft way of interpretation. I like, for instance, how the puppets` faces are somewhat incomplete, with only eyes and brows. We found inspiration in the facial expressions of animals, you know, all those cute little dogs that we love just because of their eyes. Also, one of the first things we learn already as small children, is to read emotions from facial expressions. We wanted the story, the film to be universally understood.

You have enlighten us on the development of the idea of The Kite, but how did its script evolved over time?
- I wrote the scripts for both of my films in collaboration with Ivana Sujová. Development of The Kite took us very long. That means a lot of Skyping, many meetings and consultations. The final version was written by me alone. From the story development point, I found pithing consultations very helpful. I discussed the story with Philip LaZebnik, scriptwriter for Dreamworks, at Anifilm in Třeboň. It was he who suggested leaving out a whole flashback passage I then had scripted and sticking with the simplest storytelling model possible. LaZebnik's advice shortly before the Animarkt in Łódź helped me a lot. Well, it left me with very little time to write a new script, but it won the pitching.

Your specialty are the films for children. How is their view taken into account?
- When we were working on The Kite, we let children see the animatic and discussed what they saw to learn whether they understood what we meant to say. With Ondro (Ondřej Nedvěd, film`s DoP – ed. note), we were very happy to hear the kids identifying our ideas. Some expressed them in ways beyond our own capacities.

Quite unusually, you stay faithful to puppet animation, despite that fact that there are cheaper and less time-consuming techniques available.
- I like the simple fact that it is handmade and that everything you see in the film exists in reality. That you can touch it and see the materials used. One of my first records in the family book of children's quotes is my birthday present request: "I want a pile, a chisel and a grip." When I was seven-ish, I made these small figurines – an army that I took picture of, moved it a bit, took another picture, move it again… I had no idea one call this "animation" not to say "puppet animation" and that one day I will make a living doing it.

Thanks to winning the Animarkt Pitching in Łódź two years ago, you could work at the Polish animation studio CeTA. Looking back, how do you feel about this experience?
- That was a first-class opportunity. We had a fully equipped hall and three assistants at our disposal. Our original plan was to produce the whole film in Prague, but this award allowed us to go bigger and to even make shots we otherwise couldn't have managed. Shots that are bigger, roomier… It suited us more than well, as The Kite deals with flying.

The pitching forums seem to have been important milestone in various phases of the film's production. Where do you see their benefits?
- Already in the sole event of presenting the film, the pitching preparations, the need to formulate the idea to myself, to sort it out. Just working on the presentation moves the project forward. They can be particularly helpful during development, as you can meet well established script editors who can help you identify the strong and the weak points.

Are you currently working on any ideas or stories?
-For almost three years, I have been refining one particular concept. It combines animation of items of daily use with hand-drawn animation to create totally different objects. I realized I feel intrigued by films that use one or another technique in accordance with the needs of the script; that, should they employ a different technique, just wouldn't work.

Abridged from Film.sk (2019 English Special Edition)
published: 30.01.2019
updated: 30.01.2019