Interview with Slovak co-producer Marek Urban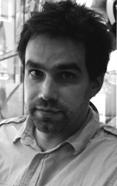 The title of your movie translates into English is "No Wedding Village". How and when did you discover the village where the young do not feel like marrying or finding a partner? And where is it?
Originally, the movie was called "Weddings According to the Mayor" and was supposed to be a film about a mayor who has the recipe for the present-day phenomenon of singles. But as it usually happens with documentaries, more often than not, reality is the best screenwriter and our "Wedding Village" became "No Wedding Village", despite all the mayor's efforts. The village, called Zemplínske Hámre, is on the eastern edge of eastern Slovakia, but the stories of the people featured in our film are universal.

In the past few years, Slovak documentaries have been very successful. Has it made any impact on the situation of raising money in Slovakia?
Of course, it is easier to promote the future project of a director who is already known for the quality of his work or who has been recognized at film festivals in Slovakia or in the world. But we should keep in mind that most of these award-winning films were author films. And you try to finish such a film at all costs, regardless of the future profit or lack of it. But, even if you are a "filmo-thropist", you cannot keep up that attitude forever. Raising money for making movies is difficult even in countries with well-functioning film industry and market, and it is more difficult in a small country, which is still searching for optimal means of financing.
I do believe, however, that the success we have had, especially in the young filmmaker generation, will help find such ways and encourage, and mainly, keep attracting the audience.

What projects are you planning next?
Right now we are in pre-production for the feature "My Name Is Goat", which is to be set in Slovakia, the Czech Republic, Germany, and possibly France. We are also producing two shorter films, and several projects are in development. Besides film projects, we are preparing a series of workshops for Slovak documakers.
MAREK URBAN (*1977, Bratislava - Slovakia)
Documentary filmmaker and producer. Studied at City University and VŠMU in Bratislava, Slovakia. In 2004 he founded his production company UN FILM, later in 2008 he founded the company sentimental film.

Co-producer of recent Slovak productions and coproductions, such as Music (dir. Juraj Nvota, 2007), Small Celebrations (dir. Zdeněk Tyc, 2008), the short film Ilja (dir. Ivan Ostrochovský, 2009) and recently, the documentary film Matchmaking Mayor (dir. Erika Hníková, 2010). He also produced and directed short documentaries and music videos.
published: 06.02.2011
updated: 22.01.2014