BERLINALE
International Film Festival Berlin
I, Olga Hepnarova at the Panorama section
A feature fiction debut I, Olga Hepnarová (CZ, PL, SK, FR) directed by two Czech filmmakers Petr Kazda and Tomáš Weinreb will be screened in its World Premiere at the Panorama as the opening film of the section.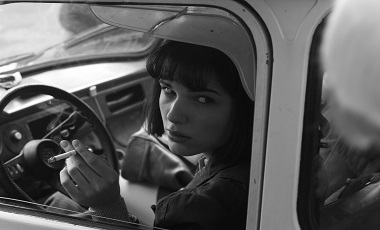 I, Olga Hepnarova / Ja, Olga Hepnarová
CZ, PL, SK, FR / 2016 / 105 min. / fiction

Directors:



Petr Kazda, Tomáš Weinreb

Cast:



Michalina Olszańska, Martin Pechlát, Klára Melíšková, Marika Šoposká, Juraj Nvota

Producers:



Tomáš Weinreb (CZ), Petr Kazda (CZ)

Production:

Black Balance (CZ), Media Brigade (PL), ALEF FILM & MEDIA (SK), Love.FRAME (CZ), Ace/Spoon Prague (CZ), Barrandov Studios (CZ), Michael Samuelson Lighting Prague, FAMU (CZ), Arizona productions (FR)
The true story of the last woman to be executed in Czechoslovakia.
Olga Hepnarova was a young, lonely lesbian outsider from a coldhearted family who couldn't play the part society desired of her. Her paranoid self-examination and inability to connect with other people eventually drove her over the edge of humanity when she was only twenty-two years old.
The film shows the human being behind the mass murderer without glorifying or downplaying the terrible crime she committed. Guided by her letters we delve into Olga's psyche and witness the worsening of her loneliness and alienation as we reconstruct the events that led up to her disastrous actions.
Evil is part of being human. Although the story is set in the 1970ies, young people worldwide today still face problems of not belonging, being different, and being bullied because of race, gender or sexual orientation.

Producers:



Black Balance(CZ)
Media Brigade(PL)
ALEF FILM & MEDIA(SK)
Arizona productions (FR)








Sales:



Arizona Distribution / Guillaume de Selle, guillaume@arizonafilms.net, www.arizonafilms.fr







Festivals:



Pascale Ramonda / Pascale Ramonda, +33 6 6201 3241, pascale@pascaleramonda.com, www.pascaleramonda.com







Screenings::

FEB 11 21:00 Cinema xX 7 (world premiere)
FEB 11 21:15 & 21:30 Cinema xX 5 & 4
FEB 12 22:45 CineStar 3
FEB 13 20:15 Cubix 7 & 8
FEB 15 11:00 Cinema xX 16 (EFM screening)
FEB 18 14:00 International
FEB 21 20:15 Cubix 7 & 8

About directors:

Both of them graduated from the Independent Film College in Písek, as well as from the Film and TV School of FAMU, Department of Documentary Filmmaking and of Scriptwriting, respectively. They have cooperated on several short fiction and documentary student films. I, Olga Hepnarova is their debut feature film.

Filmography:
Petr Kazda (1978) 2016: Já, Olga Hepnarová
Tomáš Weinreb (1982) 2016: Já, Olga Hepnarová

Support:

Slovak Audiovisual Fund, State Cinematography Fund, Polish Film Institute, ODRA-FILM
Web:
www.jaolgahepnarova.cz
More info:
www.berlinale.de
Related AIC News:
Slovak Cinema at Berlinale 2015


published: 17.12.2015
updated: 08.02.2016