Slovak films heading to Havana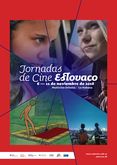 The upcoming showcase Jornadas de cine eslovaco (Slovak Film Days) kicking off Tuesday, November 6, in Multicine Infanta, Havana, Cuba, will introduce a selection of five successful Slovak films of the past three years, as well as one archive title from the collection of Slovak National Film Archive to Cuban audiences.

The showcase will open with nationally and internationally acclaimed thriller The Line (d. Peter Bebjak), crime story set against the backdrop of Slovak-Ukrainian borderlands, followed by Stanko (d. Rasťo Boroš), tragicomic road movie that equally deals with the topic of crossing borders, but also captures the birth of an unusual friendship between two characters living on the edge of society.

67th Berlin IFF success Little Harbour (d. Iveta Grófová, Crystal Bear Award), film inspired by true events about two children, whose innocent play will change their lives forever, will be introduced by producer Katarína Krnáčová. Coming-of-age drama Filthy (d. Tereza Nvotová) will open the theme of sexual abuse and dealing with feelings of guilt, shame and fear.

The weekend programme of the showcase will introduce digitally restored feature animation The Bloody Lady (d. Viktor Kubal, 1980) from the collection of National Film Archive of Slovak Film Institute. Tragic love story is inspired by the legend about the cruel Countess of Čachtice. Closing film of Jornadas de cine eslovaco is road movie Out (d. György Kristóf), a man´s odyssey across Eastern Europe full of strangely absurd events, that will be introduced to Cuban audiences by the director himself.

The showcase will be held from November 6 to 11, 2018 in Multicine Infanta, Havana, Cuba. All films will be screened in Slovak with Spanish subtitles.
The showcase Jornadas de cine eslovaco is organised by Slovak Film Institute on behalf of the Ministry of Culture of the Slovak Republic, in collaboration with the Ministry of Culture of the Republic of Cuba, Slovak Embassy in Havana, Embassy of the Republic of Cuba in Slovak Republic, and Instituto Cubano del Arte e Industria Cinematográficos (ICAIC).

PROGRAMME:
The Line / November 6/ 20.00 / opening of the showcase
Stanko / November 7 / 18.00
Little Harbour / November 8 / 18.00
Filthy / November 9 / 18.00
The Bloody Lady / November 10 / 17.00
Out / November 11 / 17.00
published: 31.10.2018
updated: 31.10.2018