Peter Solan – Prípad Barnabáš Kos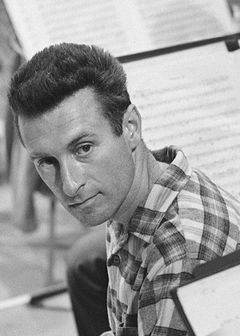 According to his own words, Peter Solan became a film director by sheer coincidence: due to interrupted medicine studies and a post-war cinema in Banská Bystrica. Later he recalled how he was fascinated by American films by such directors as Frank Capra, John Ford, or William Wyler. In 1949, he began his studies in film direction at FAMU in Prague where Soviet films were very much debated (mainly those by Vsevolod Pudovkin, Grigori Aleksandrov).
In 1953, Solan started working at Koliba studios in Bratislava where he, at first, had to carry out various compulsory tasks – making short documentary films, film portraits (Fraňo Kráľ, Railway Track), fiction propaganda films (The Man Who Knocks) et al. Over the course of his career he mostly worked with two scriptwriters: novelist and playwright Peter Karvaš (The Devil Never Sleeps, The Barnabáš Kos Case, A Little Survey, Seven Witnesses), and scriptwriter and novelist Tibor Vichta (The Boxer and Death, A Face in the Window, Before Tonight is Over, Only a Note of the Field Post). Together with directors Štefan Uher, Martin Hollý, Eduard Grečner, and those of younger generation, Dušan Hanák, Elo Havetta and Juraj Jakubisko, he became a pivotal auteur figure of Slovak cinema of the 1960s. Personal integrity and effort not to participate in public lies (in faking improved reality) became a common thread running through their work.
For Solan, cinema was a means to his search for uniqueness and non-obviousness of human behaviour, of the process of decisionmaking and mechanics of acting – whether it is Komínek, a boxer who fights for his life in a ring of the concentration camp (The Boxer and Death), or a mother who decides about the fate of her disabled child (A Little Survey). He cared for openness (discrepancies) of perception of the state of things, for incessant questioning parameters of personal responsibility. One of his main themes was the self-defence mechanism of human dignity. A discrete film direction, developing an unobtrusive "style of suspense" and intensification of filmic testimony about strengths and weaknesses of a human being in borderline situations were basic attributes of Solan's cinematic style. He didn't rely on pomposity, controversy or trends, he was only making quiet films.
The Barnabáš Kos Case, the second and last satirical film in Solan's oeuvre, is based on a short story by Peter Karvaš. Initially, the story about triangle player and incapable careerist Barnabáš Kos, was to be made at Barrandov studios in Prague (1954 – 1956). However, the studio dropped the project. The second attempt came in spring 1958. Much too brave and much too critical was this look at incompetence of political interference in artistic work and its management. The project was banned by one of the intentionally targeted – an inept bureaucrat in charge of the culture management – director of Slovak State Film Company, Pavol Dubovský. Solan returned to the project in 1963, in a completely different political, cultural and societal climate, and delivered the film a year later. When adapting the short story with Peter Karvaš and Albert Marenčin, he drew inspiration from poetics of absurdist theatre and works by Franz Kafka. Karvaš's initial satirical mockery of the Kos paradox (an incompetent person becoming director) was further deepened by Solan and Marenčin through depiction of infallibility and exclusivity of overgrown bureaucratic apparatus. Peter Solan made the film about Barnabáš Kos as a case study about invincibility of absurdity. It recalls his years-long struggles for creative freedom (The Boxer and Death, 1958 – 1962; Before Tonight is Over, 1957 – 1965). As time went by, the voices doubting the Kos Case adaptation as a meaningless anachronism have become louder and louder. However, new cases only confirm the story is still relevant and up to date.
Martin Kaňuch
PETER SOLAN (1929 — 2013)
Director's filmography (selection):
1984 – About Fame and Grass
1982 – Anticipation
1979 – And I'll Run to the End of the World
1970 – Master Did Not Ask for Anything
1968 – Dialogue 20 40 60 (the second story in the film)
1965 – Before Tonight is Over
1964 – The Barnabáš Kos Case
1963 – A Face in the Window
1962 – The Boxer and Death
1959 – The Man Who Never Returned
1956 – The Devil Never Sleeps
Related AIC articles:
Digitally restored The Barnabáš Kos Case by Peter Solan is part of Out of the Past section at 54th Karlovy Vary IFF.

published:
updated: 24.06.2019