Interview with Pavol Pekarčík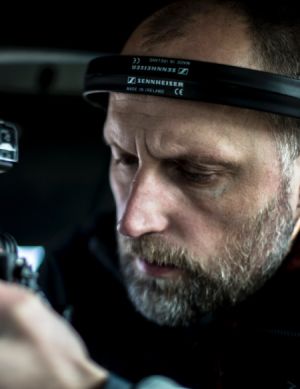 Silent Days marks Pavol Pekarčík's first sole feature film directing credit even though he is an experienced filmmaker who made multiple short films, was involved in Martin Šulík's Gypsy or Iveta Grófová's Made in Ash and together with Ivan Ostrochovský and Peter Kerekes co-directed feature documentary Velvet Terrorists, which premiered at Karlovy Vary IFF in 2013 and was awarded Tagesspiegel Readers' Jury Award at Berlinale in 2014.
In the film you follow a very specific group – deaf children and teenagers from Roma settlements. How did you come up with the idea and find the protagonists?
I enjoy being in the "other" worlds – may it be a Slovak nationalist pub, the 1st of May manifestation of what's left of the Communist Party, or the Roma settlements – as well as discovering what I have in common with these people and in what way we are different.
The idea for the film came from a discussion with my wife. We were going through some photographs from the settlements and she asked me about this boy with beautiful eyes. I told her he is a deaf-mute named Bajaja. It was then that I realized that deaf Roma children actually build "other" worlds inside the "other" worlds; they are on the margin of the margin.
Children watching their idols on TV and trying to imitate them is a strong motive in the film – especially when we know that their worlds are miles apart and that the children have virtually no chance of succeeding. Was this part of the initial idea or did it come up only later?
I had Marián's story way before we found the other kids. Marián watching Jean-Claude Van Damme's Bloodsport and doing the exact same movements and kicks as the actor was one of the first shots we made. By the way, he knows all the Van Damme films by heart. I was staring at him in disbelief and started to shoot because suddenly there were three or even four different worlds in this shot. First, there is a fictional world of Bloodsport. Then, there is Jean-Claude Van Damme and his real life which is so far away from Marián's world of a small damaged house without running water or electricity. And possibly the fourth is the world in which the audience watching the film knows that Marián will never be a Van Damme, nor a train conductor. That's how the basic structure of the film came to be. It was easy then to find other protagonists – every kid has a dream, we just needed to be attentive.
We can see that you were following the characters for a long time. How many years have you been working on the film?
First shots and the concept of the first story were made around 2012, but I cannot say I was shooting for seven years. I have spent a lot of time with the protagonists, which also means that I helped them with various day-to-day issues. When I speak of "other" worlds, you need to understand that their world is really different. Only in such places you start to realize how divided our society is. Up until such an experience, you spend time mostly with your friends of similar age and background – people who are basically the same as you; but all of a sudden you see that there are people who are dealing with completely different problems.
The film is shot in static, loosely connected images, often in unusual composition, which reminds of a series of photographs-come-alive. Why did you choose this approach?
At first I was shooting the film by myself. I wanted to experience something that is not possible with a bigger crew. Only later DoP Oto Vojtičko joined me – so if you see the film, all the bad shots are mine and all the good ones are his. And since, in terms of editing, I didn't want to narrate scenes in a classical way, wider shots prevale; I didn't want to tell the protagonists to do something again and again just so we could change the position of the camera or switch lenses. One of the effects of no cuts in the scenes is that the audience can get a better grip on the rhythm of the protagonists. I think you can absorb some of the "other" world thanks to this slowness. Now that you mention series of photograph-like images, that may be because at the beginning I was thinking quite intensively about crossovers between the media of film and photography and how they influence one another.
The film is listed as a hybrid between fiction and documentary. Can you describe how you were working with reality and its transformation?
In each story there are situations that were shot as an observation. These are authentic moments that would be difficult for a scriptwriter to come up with and for a crew of 50 to shoot. But to give the series of images some structure and story we needed to create some of the situations. My friends Marek Leščák and Ivan Ostrochovský helped me with that a lot. At first I wanted to make this film on my own, but after a while I realized it would not be that easy. That's why I asked people for advice and they stepped in, many times helping me selflessly; I managed to get to know some very nice people without whom I wouldn't be able to make this film for which I am very thankful. And of course, throughout the years I have developed good relations with the protagonists too, so when we needed to recreate some piece of reality, it was easy – even in a made-up situation they were comfortable and authentic. Now, even I am not sure which scenes were authentic and which were staged.
Related AIC articles:
Silent Days (d. Pavol Pekarčík) in East of the West competition at 54th Karlovy Vary IFF
published:
updated: 24.06.2019