Signum Laudis | Signum laudis

International premiere of digitally restored film
CS | 1980 | 85 min. | fiction
Director: Martin Hollý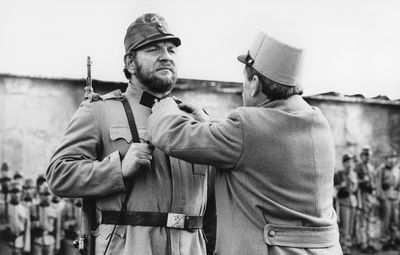 A dramatic story set on the Russian front during the final days of World War I is an uncompromising indictment of the cruelty and pointlessness of war. The main character Corporal Hoferik is a soldier at heart whose dedication to the army and monarchy is boundless, along with his willingness to defend it to his last gasp. However, his exaggerated sense of duty and occasional almost blind belief in ideals prove fatal for him.
Cast: Vlado Müller, Josef Bláha, Ilja Prachař, Radovan Lukavský, Jiří Kodet, Oldřich Velen, Pavel Zedníček, Miroslav Zounar, Ladislav Frej, Jan Skopeček, Jiří Zahajský, Vítězslav Jandák, Jan Pohan, Jiří Krampol, Ivan Palúch
Production: Slovenská filmový tvorba Bratislava (CS), Filmové studio Barrandov (CS)

Martin Hollý (1931, Košice – 2004, Bratislava)

Film director and screenwriter. In 1953-57 he worked at the Short Film Studios in Bratislava as an assistant director. In 1957 he made his first documentary On the Sideline, which won an award at the Edinburgh IFF. Two years later he made the documentary Action 37 (1959), which won the Grand Prix at the Krakow IFF. His fiction films varied in terms of genre and theme and won many national and international awards. He debuted with Crows Fly Over (1962), he made psychological dramas such as A Case for the Defense Attorney (1964), The Dead Teach the Living (1983), widely popular movies set in the High Tatras mountains – The Copper Tower (1970), Eagle Feather (1971); WW I and WW II dramas – Private War (1977), Signum Laudis (1980), a fairy-tale – Salt More than Gold (1982), dramatic stories from the recent Slovak past – The Sin of Katarína Padychova (1973), Who Leaves in the Rain... (1974), Fever (1975), Custom-Tailored Death (1979), Night Riders (1981), and more. He gained international recognition with his work for television. His film The Ballad on the Seven Hanged (1968) was awarded at the Monte Carlo ITF 1969 and the World Festival of Television Works in Hollywood in 1970. His TV films and TV productions belong to the best of the Slovak Television. In the 1990s, during a recession in the Slovak filmmaking industry, he was shooting in the Czech Republic – Silent Pain (1990), A Castle in Bohemia (TV, 1993), The Road through Hell (1995), the TV series Justice Under Arrest 1-13 (1998).
FILMOGRAPHY
(selection)

· 1983 The Dead Teach the Living
· 1982 Salt More than Gold
· 1981 Night Riders
· 1980 Signum Laudis
· 1979 Custom-Tailored Death
· 1977 Private War
· 1974 Who Leaves in the Rain...
· 1973 The Sin of Katarína Padychova
· 1971 Eagle Feather
· 1970 The Copper Tower
· 1968 The Ballad on the Seven Hanged
· 1964 A Case for the Defense Attorney
· 1962 Crows Fly Over
· 1959 Action 37
· 1957 On the Sideline
Contact: Slovak Film Institute, www.sfu.sk

Screenings:
03.7. 2018 13.00 Karlovy Vary Municipal Theatre
07.7. 2018 13.30 Lázně III

Related AIC articles:
Interview with director Martin Hollý.
published:
updated: 21.06.2018