Interview with director Martin Šulík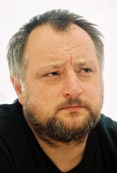 After 5 years you are back with a fiction film. The film Gypsy has been referred to as the Hamlet of our times in a today´s Roma village. Why did you choose this topic?
Having read Shakespeare's tragedy for the first time, I had the feeling that Hamlet struggles with the very basic issue of adolescent people – why to live, and how? After the violent death of his father, he is very sensitive toward the doublefaced morality, conformism, lies and hypocrisy. The connecting link between Hamlet and our film is the choice of the main character and the basic dramatic situation. Together with Marek Leščák, the coscriptwriter, we wanted to see our world through the eyes of a young boy, who lives in extreme poverty and is exposed to a strong existential pressure, race prejudice, as well as tough rules of his own community. His father is murdered and he is left alone with the responsibility for his family. We wanted to find out if he has any chance whatsoever in our society. We travelled to many Roma settlements and became astonished by all the authentic material. It was not possible for us to muse over Shakespeare any longer. Our story took its own path.

On the script you collaborated with Marek Leščák. Did both of you feel the need to point your attention to the cruel reality of a Roma village?
In Slovakia, there are almost 200 thousand Roma people living in settlements in extreme poverty. The politicians do not refer to them as to human beings but as "inadaptable citizens" or as "the Roma issue". We know hardly anything about them. On TV we are confronted only with extreme images: glamorous traditional musicians or criminals. With Marek we wanted to show that their world is much more complicated, interesting and lively. We are very glad that the Roma speak their own language on screen. Hopefully, our film would raise the interest in the life in settlements among wider public, because many issues of these people cannot be solved without the support of the majority.
Did you collaborate with an expert on the Roma issue?
We were assisted by many people: social workers, activists, enthusiasts. Thanks to them we met a lot of Roma personalities; extraordinary women taking care of 15head families, craftsmen, entrepreneurs, teachers. With their help we were able to get a glimpse of the everyday life of the Roma community. My special thanks goes to Helena and Ivan Akim from Kežmarok. Helena translated our script to the Romani language and Ivan was a great help with the cast.
Where did the shooting of the film take place, and what was the collaboration with non-actors like?
We were shooting at various Slovak locations. There are not many professional Roma actors, thus, we had to search for main cast directly in the Roma community. With the help of assisting directors Paľo Pekarčík and Juraj Baláž, and the casting director Ingrid Hodálová we travelled almost the whole of Slovakia. We were lucky. We found talented people, who – with a great deal of empathy – were able to play the characters of our story. Couple of days before the shooting, we rehearsed, talked a lot and together tried to find the most exact and suitable expression for the individual situations. During the shooting, I was able to leave many of the scenes up to the Roma. They sensed what is true and what is a lie.
published: 29.06.2011
updated: 30.06.2011