Industry workshop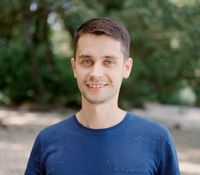 Marché du Film Industry Workshop (May 15 – 17) offers a series of conferences which aim to expand knowledge and expertise in the international film market, presenting topicssuch as co-production in Europe, international financing, multiple distribution platforms, etc. led by industry experts.
Following successful presentation of the upcoming documentary by Lucia Kašová The Sailor at the 24th Meeting Point – Vilnius, Slovak film producer Nazarij Kľujev will take part in this year's edition; The Sailor won the Post Production Award.
>>Nazarij Kľujev<<

Nazarij Kľujev (*1990 ) graduated in Film and TV Production at Academy of Performing Arts in Bratislava where he is currently pursuing his PhD. As a director and producer he has experience in ads, music and film projects. He founded production company TOXPRO in 2015 which provide full service in all forms of audiovisual production.

>>PROJECT<<
The Sailor
d. Lucia Kašová, SK

>>CONTACT<<
Nazarij Kľujev / TOXPRO
+421 949 435 888, nazarij.klujev@toxpro.sk,
www.toxpro.sk

published: 07.05.2019
updated: 09.05.2019