Slovak cinema at Les Arcs Film Festival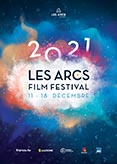 The 13th Les Arcs Film Festival will take place from 11 to 18 December 2021, live at the Les Arcs ski resort in France.
In the Official Competition we will find Slovak film 107 Mothers (d. Peter Kerekes), which will compete with the other 9 films for the Crystal Arrow award.
Les Arcs Industry Village, that forms part of the programme for professionals, will be attended by two Slovak producers - Tomáš Krupa (HAILSTONE) and Jakub Viktorín (nutprodukcia).
published: 10.12.2021
updated: 10.12.2021