Slovak films introduced in Tbilisi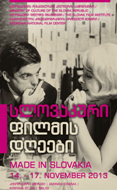 Both the contemporary and archive Slovak cinema will be brought to Georgian audiences - the Slovak film showcase, entitled Made in Slovakia, will take place in Tbilisi, Georgia at the Amirani cinema during November 14 - 17, 2013. It will bring six full-length films and a collection of four shorts.

The showcase will be opening by the archive title Before Tonight Is Over (1965), honouring its director Peter Solan, who, sadly, recently passed away. The other archive title available at the event will be the significant title of the Czechoslovak New Wave - The Sun in a Net (1962) by Štefan Uher. Both of the films will be introduced by the Slovak Film Institute representative Viera Ďuricová.

The contemporary production will be presented with both fiction films and documentaries: besides the Slovak Oscar nomination film Made in Ash (2012) by Iveta Grófová, introduced by the co-producer Robert Kirchhoff, the Tigers in the City (2012) will be presented by its director and producer Juraj Krasnohorský. The documentary production will be represented by the Karlovy Vary-premiered Exhibits or Stories from the Castle (2013) by Palo Korec and the winning film from Jihlava and Leipzig Normalization (2013) by Robert Kirchhoff, who will, once again, present this film personally.

The showcase will also offer a chance to get to know the Slovak short production, screening the most successful and awarded titles of the last years: The Last Bus (2011) by Ivana Laučíková a Martin Snopek, The Star (2012) by Andrej Kolenčík, Momo (2012) by Teodor Kuhn and Pandas (2013) by Matúš Vizár.

The event is organized based upon bilateral co-operation and upon the intergovernmental cultural agreements, the organizers being Ministry of Culture of the Slovak Republic, Embassy of Georgia to the Republic of Slovakia, Georgian National Film Center and the Slovak Film Institute.


MADE IN SLOVAKIA
14. 11. 2013 > 20:00 > Amirani Cinema
BEFORE TONIGHT IS OVER (Kým sa skončí táto noc)
CS - 91 min. - 1965 - fiction
director: Peter Solan

introduction by Viera Ďuricová
OPENING FILM
15. 11. 2013 > 18:00 > Amirani Cinema
NORMALIZATION (Kauza Cervanová)
SK / CZ - 100 min. - 2013 - documentary
director: Robert Kirchhoff

introduction by Robert Kirchhoff
15. 11. 2013 > 20:00 > Amirani Cinema
TIGRS IN THE CITY (Tigre v meste)
SK - 90 minn. - 2012 - fiction
director: Juraj Krasnohorský

introduction by Juraj Krasnohorský
16. 11. 2013 > 18:00 > Amirani Cinema
THE SUN IN A NET (Slnko v sieti)
CS - 90 min. - 1962 - fiction
director: Štefan Uher

introduction by Viera Ďuricová
16. 11. 2013 > 20:00 > Amirani Cinema
MADE IN ASH (Až do mesta Aš)
SK / CZ - 80 min. - 2012 - fiction
director: Iveta Grófová

introduction by Robert Kirchhoff
17. 11. 2013 > 18:00 > Amirani Cinema
short film collection

THE LAST BUS (Posledný autobus)
SK - 15 min. - 2011 - animation
director: Ivana Laučíková, Martin Snopek

THE STAR (Hviezda)
SK - 20 min. - 2012 - dokumentary
director: Andrej Kolenčík

MOMO (Momo)
SK - 30 min. - 2012 - fiction
director: Teodor Kuhn

PANDAS (Pandy)
SK / CZ - 12 min. - 2013 - animation
director: Matúš Vizár
17. 11. 2013 > 20:00 > Amirani Cinema
EXHIBITS OR STORIES FROM THE CASTLE (Exponáty alebo Príbehy z kaštieľa)
SK - 72 min. - 2013 - documentary
director: Palo Korec
Related AIC articles:
Georgian Film Days in Bratislava will present seven films

published: 13.11.2013
updated: 13.11.2013