Slovenian Film Days in Kino Lumière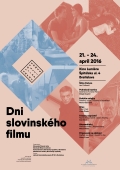 Showcase Slovenian Film Days, held in cinema Kino Lumière in Bratislava, begins on Thursday, April 21, 2016, and will last until Sunday, April 24, 2016.

During four days, the event will screen two of the Slovenian national nominees for the Academy Award (Oscar) in category Foreign Language Film, Rooster´s Breakfast (d. Marko Naberšnik) and Class Enemy (d. Rok Biček). The latter was awarded with Grand Prix at 15th Bratislava IFF and nominated for the 2014 LUX Prize. The total number of seven films further includes fiction features Šiška Deluxe (d. Jan Cvitkovič), Dad (r. Vlado Škafar), Good to Go (r. Matevž Luzar), digitally restored archive film Funeral Fest (d. Matjaž Klopčič), and documentary Alexandrians (d. Metod Pevec).

The opening film, comedy Šiška Deluxe, will be personally presented by actor Marko Miladinović and producers of the film Aleš Pavlin and Andrej Štritof.

The films will be screened in original language with English and Slovak (or Czech) subtitles. Please, pick up free ticket at the cash desk of the cinema one hour before screening. No reservation needed. For the opening, number of tickets open to public is limited.
The event is organized as part of the Cultural Plan of Ministry of Culture of the Slovak Republic 2016, and commemorates 25 years of independence of the Republic of Slovenia.

Organizers of Slovenian Film Days are Slovak Film Institute, Ministry of Culture of the Slovak Republic, Slovenian Film Centre and Embassy of the Republic of Slovenia in Bratislava. Partner of the showcase: Slovene Lectureship at the Faculty of Arts, Comenius University in Bratislava.
Programme:
21.4. 2016 at 18.00
Šiška Deluxe | Šiška Deluxe
r. Jan Cvitkovič, SI+CZ+MK, 2015, 105min., MP 12, OV + ČT / AT
Opening film. Limited entrance.
22.4. 2016 at 18.00
Pohrebná hostina |Sedmina | Funeral Fest (reštaurovaná verzia/ restored version)
r. Matjaž Klopčič , Juhoslávia, 1969, 91min., MP 12, OV + ST /AT
22.4. 2016 at 20.00
Kohútie raňajky | Petelinji zajtrk | Rooster's Breakfast
r. Marko Naberšnik, SI + HR, 2007, 125 min., MP 15,OV + ST /AT

23.4. 2016 at 18.30
Otec | Oča | Dad
r. Vlado Škafar, SI + HR, 2010, 71min., MP 12, OV + ST /AT
23.4. 2016 at 20:00
Triedny nepriateľ | Razredni sovražnik | Class Enemy
r. Rok Biček, SI, 2013, 112min., MP 12, OV + ST /AT
24.4. 2016 at 18.00
Alexandrinky | Aleksandrinke | Alexandrians
r. Metod Pevec , SI + IT, 2011, 90min., MP 12, OV + ST /AT
24.4. 2016 at 20.00
Pripravený na odchod | Srečen za umret | Good to Go
r. Matevž Luzar, SI + HR, 2013, 100min., MP 12, OV + ST /AT
Related AIC news:
Successful Slovak films will be presented at the Showcase of Slovak and Czech films in Ljubljana
published: 14.04.2016
updated: 14.04.2016