Producers Lab Toronto 2016: Mira Fornay (MIRAFOX)
Producers Lab Toronto (Sept 6 – 9, 2016), a co-production platform organized by European Film Promotion (EFP), will be held within the Toronto IFF for the seventh time. Slovak director, scriptwriter and producer Mira Fornay (MIRAFOX) is a part of this year´s thrilling selection of projects.

Producers Lab Toronto brings together selected producers from Europe with producers from Canada, Australia and New Zealand for three days of workshops, seminars, pitching sessions, meetings and social events at Canada's premiere festival (Toronto IFF). The participants will take part in different networking events, from 1:1 meetings, funding sessions on the different possibilities in Canada, Down Under and Europe through different financing models to the case study on Unless.

Slovak cinema has already had a representative at the Producers Lab Toronto. Silvia Panáková (Arina) presented her up-coming film Piagry (d. Ivo Trajkov) in 2015.


Mira Fornay (*1977, Bratislava)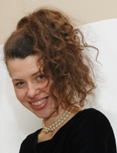 A graduate from Prague's FAMU and the UK's NFTS, Mira Fornay's debut feature Foxes premiered in the International Film Critics' Week Venice IFF 2009. She not only wrote and directed, but also co-produced her second feature My Dog Killer which won the Hivos Tiger Award at the 2013 Rotterdam IFF. Mira's company Mirafox is currently developing the absurd comedy Cook, F**k, Kill.
FILMOGRAPHY:

2016: Gardeners / Záhradníci, SK-NL, 20 min.
2013: My Dog Killer / Môj pes Killer, SK-CZ, 90 min.
2009: Foxes / Líštičky, CZ-SK-IE, 83 min.

UPCOMING FILMS:

Cook, F**k, Kill, d. Mira Fornay (in development)


CONTACT:
Mira Fornay / MIRAFOX
+421 910 176 857 (SK) / +420 603 745 519 (CZ)
mira.fornay@mirafox.sk
www.mirafox.sk

EFP Press Release: Producers Lab Toronto
Related AIC articles:
What´s Slovak in Toronto 2015
published: 31.08.2016
updated: 08.09.2016